Fallece el actor Leslie Nielsen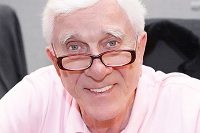 El actor canadiense Leslie Nielsen, astro de películas como Airplane y The Naked Gun, murió a los 84 años como consecuencia de una neumonía, mientras se encontraba internado en un hospital de Fort Lauderdale, en el estado de Florida.
Nielsen tuvo una extensa carrera en el cine y la televisión que se extendió por más de 60 años.
El actor canadiense ganó reconocimiento como comediante por su papel como el detective proclive a accidentes, Frank Drebin, en las tres películas The Naked Gun.
También fue protagonista en la Aventura del Poseidón. En televisión, Nielsen protagonizó la exitosa serie Escuadrón de policía.