VancouverLatino.com Advertising Solutions
We offer a variety of online advertising solutions to choose from.
Online Advertising with banner ads – Advertise your products or services with a banner ad placed on a prominent spot with a rotation of maximum 6 ads per spot.
Business directory Listing. We can chose between:
FREE basic listing – Includes Business Name, address and telephone number.
Premium Listing – Includes E-mail, link to your website, Logo, a brief description of your services, Business Name, Address, phone number, etc.
Featured listing – List your business on top of the results and in the directory's main page.
Business landing pages hosted on our website. Landing pages are the online equivalent of a "flyer" and can draw attention to a special or other feature before linking to your regular site. Landing pages can also include video, sound, and downloads.

Contests, Especial Segments, Customized Promotions, etc.

Classified ads – FREE
OUR PRICES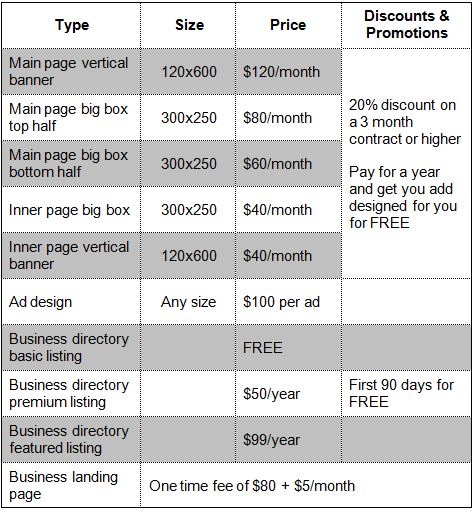 For more information on our products or services, or for any other request or question please call us now at 604-288-7966 or send us an email