Stewart y Stevie Nicks añaden una parada en Vancouver, en el tour en el que comparten la cartelera.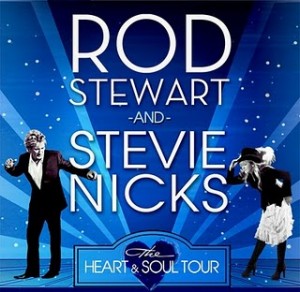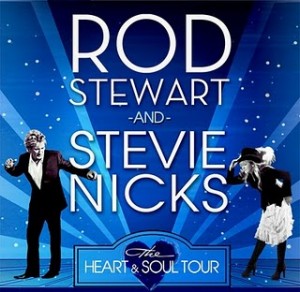 El tour de estos dos grandes artistas se llama "The Heart and Soul Tour" y fue anunciado en enero. Ni Stewart ni Nicks habían trabajado juntos anteriormente.
Afortunadamente para muchos fans, la gira se amplió en dos lugares más. En Vancouver se harán presentes el día 22 de abril (Rogers Arena) y el 23 en Seattle.
El comienzo de "The Heart and Soul Tour" será a partir del 20 de marzo y en total se realizarán 18 conciertos en 16 ciudades. Las entradas están disponibles a partir del 28 de febrero.
Rod Stewart lleva vendidos unos 250 millones de discos en un período de 50 años. Stevie Nicks por su parte, es conocido como el vocalista principal de Fleetwood Mac. Seguramente cante algunos de sus viejos temas aunque también es posible que cante algunos temas de su disco en solitario "In Your Dreams".
Stewart lanzó su último disco en octubre de 2010, "Fly me to the Moon…The Great American Songbook Volume V". En este se incluyen 12 canciones populares.
Además de estos dos grandes artistas, Vancouver recibirá otras importantes visitas:
El 25 de mayo Usher actuará en el Rogers Arena. Las entradas están disponibles en Ticketmaster.ca.
El trío de rock The Greenhornes actuará el 17 mayo y las entradas están en ventas en at Livenation.com, Zulu and Red Cat.
Alexi Murdoch se presentará el 9 de marzo en Biltmore Cabaret.
The Airborne Toxic Event se presentarán en Venue el 7 de junio.